OSARO® Robotic Bagging System
Automate item bagging by pairing OSARO's sophisticated pick-and-place solution with packaging equipment from leading automatic bagging partners for streamlined order fulfillment.
The system can package individual items at a rate of 350 parts per hour – equal to manual operation but with less overhead, no labor issues, and superior return on investment.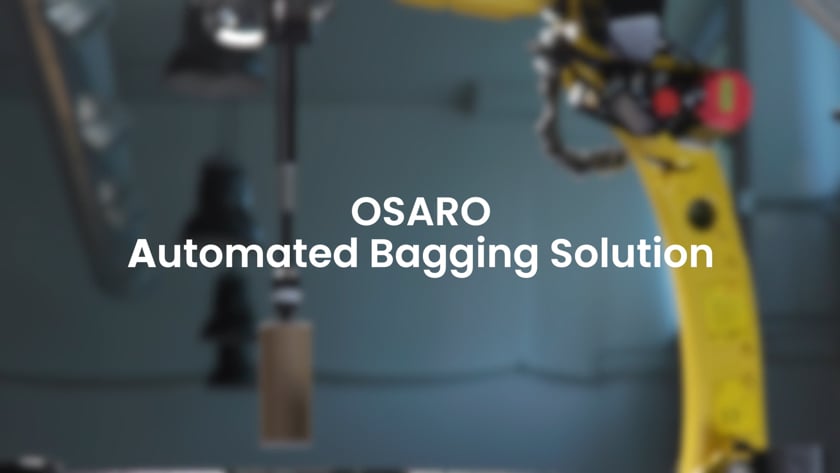 "We are focused on quality and innovation. With a mountain of online orders and a persistent shortage of labor, we looked to OSARO to take us to the leading edge of technology to be sure our customers receive fast and accurate processing."
Simon Goh, director of distribution and facilities at Zenni
"PAC Machinery provides innovative packaging solutions that give our customers a competitive edge. By having PAC Machinery poly bagging systems fed by OSARO's smart robots, it creates a new solution that will take customers to the next level of automation. This is the future."
Tom Zamiska, Product Line Manager, Rollbag Bagging Systems, PAC Machinery
"Pregis has always aspired to solve our customers' toughest business challenges with packaging. We're excited to showcase a new packaging innovation that combines our best-in-class automated poly bagging machines with OSARO's leading pick-and-place robotics. This turnkey solution offers efficiency and automation that delivers enhanced levels of productivity."
Eric Johnson, Director of Product Strategy, Pregis-Sharp
Single item order fulfillment in e-commerce applications using polybags.
Pack and ship the majority of e-commerce items with limited manual labor.

Handle items without previous registration: Adapt to changing inventory and new items on the fly.

Scan barcodes quickly and efficiently to ensure orders are fulfilled and recorded correctly.
Increase production without increasing headcount.

Completely automate the order-fulfillment process.
Cost Savings and Return on Investment
Up-front purchase or robot rental / robot as a service options available.
Return on Investment (ROI): A five cell deployment will return, on average, 20-40% cost savings over five years when compared to an equivalent number of manual bagging stations (1-2 shifts per day and 24 operating days per month).
Boxes
Dry Goods, Boxed Items, Cosmetics

Pouches / Envelopes
Prepared Foods
Bags
Loosely Packaged Items

Cylinders / Bottles
Liquids, Aerosols, Food
Blister Packs
Pills, Toys, Electronics
Multi-packs
Consumer Packaged Goods
Apparel (in bags)
Shirt in Polybag
Boxes
Dry Goods, Boxed Items, Cosmetics

Pouches / Envelopes
Prepared Foods
Bags
Loosely Packaged Items

Cylinders / Bottles
Liquids, Aerosols, Food
Blister Packs
Pills, Toys, Electronics
Multi-packs
Consumer Packaged Goods
Apparel (in bags)
Shirt in Polybag